SWAMP WATCH
"Puerto Rico has long served as a captive hub for oil, gas and coal exports. The island is barred by federal law from accepting imports from anywhere other than the mainland U.S. In many ways, it's an exaggerated case study for the last century of American economic policy."
A year after Hurricane Maria, the case for community-owned, renewably-powered microgrids is growing clearer.

To the west of Jobos Bay, the Aguirre Power Station burned oil. To the east, the AES Power Plant burned coal. But for three months after Hurricane Maria, the cities that surround the bay in southeastern Puerto Rico languished in darkness.
The dubious and dirty electricity problem predated the Category 5 tempest that obliterated Puerto Rico's rickety, costly and fossil-fueled power grid. But so, too, did the solution.
In 2015, local lawyer and environmental activist Ruth Santiago started drafting plans for a rooftop solar project that would provide clean electricity sourced from the Caribbean's bounty of sunshine. In early April, the Coquí Solar project in Guayama, a city on the bay, finally came online.
It wasn't a moment too soon, either. Roughly a week later, the entire island plunged into darkness yet again following a construction accident. It was days before power was restored to the rest of Puerto Rico, but the photovoltaic panels rigged to a battery atop the Guayama community center became a beacon in the dark. Dozens came to the one-story community center to charge phones and computers and refrigerate medicine best kept cold, such as insulin.
To Santiago, the pilot project in Guayama was proof that Puerto Rico's energy future could entail clean, locally-produced power ― while also addressing the island's high electricity rates, suffocating debt and noxious pollution. It also showed that Puerto Rico could be a case study for how the rest of the United States can decarbonize its power grid, scaling back the planet-warming emissions projected to make storms like Maria more destructive and common.
"The plan is, we would work to convert that into a solar community and expand from the community center into the nearby community," said Santiago.
But lawmakers in Washington, D.C., and San Juan have mostly focused on putting the old grid back together rather than investing in novel solutions. In the year since Maria ― which left nearly 3,000 dead ― and the monthslong blackouts that followed, the Federal Emergency Management Agency has spent at least $250 million rebuilding the debt-choked state utility's fragile, centralized grid.
Of the three supplemental budget bills Congress passed to fund Puerto Rico's reconstruction, just one made mention of resiliency ― a vague reference to adopting more hazard-resistant building designs.
"The appeal of microgrids is of course that they're much more durable in the face of some kind of a storm," said Ashley Dawson, author of the book Extreme Cities: The Peril and Promise of Urban Life in the Age of Climate Change. "In terms of Puerto Rico's vulnerability to hurricanes and other natural disasters, it's a no-brainer."
'Trapped In A Cycle Of Debt'
Puerto Rico has long served as a captive hub for oil, gas and coal exports. The island is barred by federal law from accepting imports from anywhere other than the mainland U.S. In many ways, it's an exaggerated case study for the last century of American economic policy.
Puerto Rico's utility illuminated much of the island in the 1940s and 1950s, when the federal government spent generously on infrastructure. The island saw a new wave of development in the 1990s when corporate tax incentives and lax labor laws lured companies, particularly pharmaceutical manufacturers. So-called vulture funds got in on the action, loaning billions to the island's already indebted public institutions, such as the Puerto Rico Electric Power Authority, known by the acronym PREPA. Trapped in a cycle of debt, saddled with the cost of buying imported fuels and unable to invest in new technologies, the utility deteriorated.
Today, Puerto Rico generates a breathtaking 97 percent of its electricity from fossil fuels ― 47 percent from fuel oil and 51 percent from a blend of coal and natural gas. Just two percent comes from renewable energy.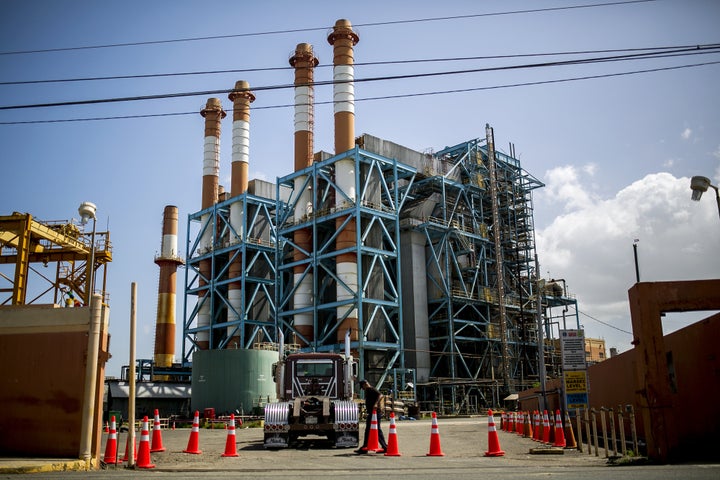 Last November, Sen Bernie Sanders (I-Vt.) introduced a bill outlining a $146 billion "Marshall Plan" to rebuild Puerto Rico with renewable energy and redesign the power grid to phase out imported fuels. Despite attracting support from progressive candidates running in 2018, the legislation remained stuck in the Senate finance committee.
The fossil fuel industry and its allies, in the meantime, started to circle. That same month, Republicans sketched out a strategy to make Puerto Rico what The Intercept called "a theme park for fossil-fuel corporations." In May, Rep. Rob Bishop (R-Utah), the chairman of the House Natural Resources Committee, announced plans to turn the island into "the energy hub of the entire Caribbean" after consulting with oil and gas companies. In July, House Republicans at a hearing on Puerto Rico's debt-choked utility questioned why the island would want renewable energy at all.
"We're hearing a lot about renewables, presumably wind and solar. Those are the most expensive ways of generating electricity that we have available to us," said Rep. Tom McClintock (R-Calif.). "In a system that is impoverished and in desperate need of simple generation — particularly on an island favored by trade winds — why aren't we pursuing much less expensive and much more reliable conventional electricity generation?"
The "conventional" gas and coal industries have been waiting for a moment like this for a long time. Puerto Rico faces $74 billion in bonded debt and is on the hook to pay out $49 billion in pensions with money it doesn't currently have on the books. In June 2016, the island came under the control of the Puerto Rico Oversight, Management, and Economic Stability Act ― known as PROMESA, the Spanish word for "promise" ― which put in place an unelected fiscal control board to forcibly restructure the debt. At least $9 billion of that debt is tied up in PREPA.
In August 2016, the pro-renewable Institute for Energy Economics and Financial Analysis issued a scathing 47-page report arguing that the plan outlined by PREPA's oversight commission under PROMESA or different gave "renewable energy exceptionally short shrift" and ordered the utility to "turn almost entirely to natural gas … despite a legislative mandate to diversify Puerto Rico's energy mix."
The future of the grid relies on what happens in the next two years, as PREPA begins the process of selling itself off to private investors. To many like Santiago, the plans jeopardize hope for a future where community solar projects dominate electricity production. She said investors who buy oil-, gas- or coal-burning stations seem more likely to maintain those technologies than phase them out and pay to build something completely new.
We're concerned that the sale of those PREPA units will perpetuate the fossil-fuel generation and tie us to fossil fuels for decades to come.Ruth Santiago, community activist
Selling off the utility piecemeal could prolong the use of fossil fuels and prevent any democratic movement to use PREPA's monopoly to green the island's electricity system in one sweeping overhaul. But small-scale community solar projects have shone a path forward for decades now.
"We think that if the PREPA generation plants are sold off to private companies that the companies will double down on fossil fuel generation," Santiago said. "We're concerned that the sale of those PREPA units will perpetuate the fossil-fuel generation and tie us to fossil fuels for decades to come."
Others see partial privatization as a means to devolving power generation to municipalities in the form of renewable microgrids. Judith Enck, a former Environmental Protection Agency regional administrator in Puerto Rico who advised Congress on its supplementary relief budget bills, said PREPA is "completely dysfunctional" and "there has to be some privatization" for there "to be some accountability."
"There has to be competition," she said. "I don't think you need to replace PREPA with unaccountable vulture companies, but decentralized energy with some private ownership would definitely help."
Shock Doctrine
In Adjuntas, a tiny mountain town in central Puerto Rico, a modest, salmon-pink colonial house glowed brightly in inky-black nights after Maria toppled the power lines. Casa Pueblo, an environmental watchdog group and community center, installed solar panels on its roof in the 1990s. In the storm's wake, the house transformed into a hub where people could charge their phones and seek medical help.
"It became a kind of a field hospital," said Naomi Klein, who chronicled the organization's efforts in her latest book, The Battle for Paradise. "They had power the very next day."
Klein, whose 2007 book The Shock Doctrine coined the term for how corporate interests exploit disasters, added: "People really saw the vulnerability of this centralized, import-based energy system, which was so brittle in the face of the storm."
At a time when fossil fuel emissions are hitting an all-time high and record-breaking storms and wildfires cause historic levels of damage across the U.S., territories like Puerto Rico should serve as testing grounds for how to run entire states on 100 percent zero-emissions energy, said Dawson, the author.
"If we had our heads screwed on right, we'd be using Puerto Rico as a test case for the rollout of 100 percent renewables," he said. he said. "But then there's politics." "