Tim Carl
"Staffing has become the greatest challenge to every restaurant in the Napa Valley," said Redd's former general manager, Guy Rebentisch. "First it's too expensive to live here for many — two of my staff drove in from Sacramento four or five times a week."
"Restaurants have to compete with so many wineries that are now offering food pairings and lunches, with in-house chefs creating menus to keep their visitors engaged. Tourists aren't necessarily interested in a big dinner or fancy lunch when they can have a food experience at the winery. It's really tough on restaurants now."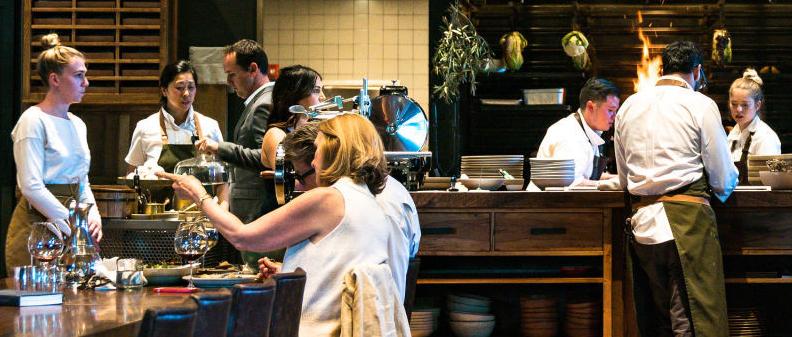 Napa Valley restaurants are finding it increasingly difficult to hire and retain qualified personnel. The causes are partly driven by the high cost of living but also appear linked to broader trends: lack of affordable housing, higher-paying alternative careers (e.g., construction) and slowing local population growth. These trends are exacerbated when coupled with the increasing number of Napa Valley tourists, resorts, restaurants and wineries.
"Everyone is dealing with staffing issues — it's unsustainable," said Richard Reddington, whose popular Yountville Redd restaurant closed in October.
These local challenges appear to be part of a broader national phenomenon. In 2017 the National Restaurant Association reported that nearly 40 percent of its members listed labor recruitment as their top challenge, which was up from only 15 percent in 2015.
However, the impact is perhaps hitting independent Napa Valley restaurants the hardest: So far in 2018 five well-liked eateries have closed with each of their owners pointing, at least in part, to the difficulties of finding and retaining qualified staff.
Beyond the closings, new restaurant openings have been delayed, and some eateries are scrapping or have modified their business models toward less-labor-intensive alternatives, while some of the valley's finest expert culinarians have packed their bags.
The data
The California Department of Alcoholic Beverage Control (ABC) reports that Napa County had 62 Type 47 restaurant permits in 2008. In 2018 there are 82 such permits, a 32 percent increase. However, these are not the only permits that allow the sale of food, and so according to the Visit Napa Valley website, there are actually now 188 places to dine in the valley.
Since 2010, wineries can serve food to pair with their wine offerings. There were 557 Type 02 winery licenses in Napa County in 2008, according to the ABC, and a total of 1,616 such licenses in 2018 (a 190 percent increase). Some wineries have multiple 02 licenses — one for their winery and others for their tasting room(s). There are also hundreds of "caterer" licenses currently issued in Napa County.
According to a recent City of Napa Economic Development Division report, in 2017 there were 2,365 total hotel/resort rooms already existing in the city of Napa and the surrounding area. The report says lodging applications in process or in the conceptual design phase will increase that number to 4,783 (a 102 percent expected increase). Most of these hotels and resorts are also building new restaurants to serve their guests.
House prices are out of reach: according to Zillow, the median sold-price of a single-family home in Napa County in 2011 was $361,000 but in 2018 reached $706,000, a 95.5 percent increase. Compare that to the median sold-price of a single-family home in the United States in 2011, which was $152,000 and today is $235,000 — only a 54 percent increase.
The Napa Valley had about 2.9 million visitors in 2012, according to a Destination Analysis report, but that number grew to 3.5 million visitors in 2016, according to Visit Napa Valley data — a growth of more than 20 percent in four short years.
California census data reports the population of Napa County fell from 141,784 on Jan. 1, 2017, to 141,294 on Jan 1. 2018 — a 0.3 percent decrease.
What these numbers point to is a staggering increasing need for restaurant laborers while at the same time there is a stagnant or even shrinking pool of local talent.
No applicants
Turnover in the restaurant business is nothing new, but here it's different. According to the Bureau of Labor Statistics, in 2016 the annual national turnover rate within the restaurant and accommodations sector was 72.9 percent, compared to 46.1 percent in the total U.S. private sector. However, Eater reported that a local study suggested that in 2017 Bay Area turnover for cooks was as high as 120 percent per year.
"Finding and keeping staff in the Napa Valley is at crisis levels," said Tamer Hamawi, co-owner of Napa's newly opened Gran Electrica. "We've given up placing ads because there is no point — it costs money and we don't get any responses. Whereas in New York I get hundreds of applicants for a job opening, here I am lucky to get one or two."