Whole Food recently exposwed for not labeling GMO conventional potatoes, buyer beware.
Read more: http://naturalsociety.com/betrayed-whole-foods-halts-mandatory-gmo-labeling-plan-4810/#ixzz5Zb3c3uzf
Follow us: @naturalsociety on Twitter | NaturalSociety on Facebook
The policy was set to go into effect on September 1, 2018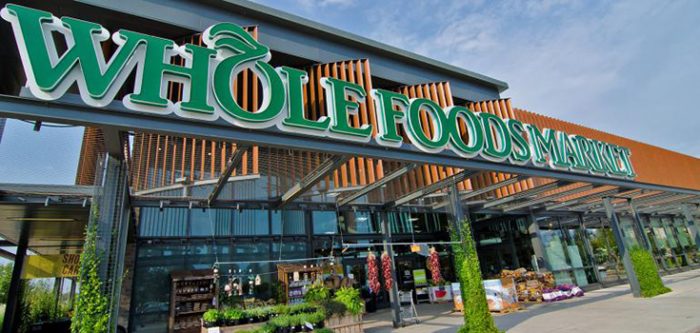 Latest News
Health food retailer Whole Foods has quietly put the brakes on its plan to require all products in its U.S. and Canadian stores to indicate if they contain genetically modified organisms (GMOs).
A Whole Foods spokesperson said the decision was made to hold off on the policy until the U.S. Department of Agriculture (USDA) "finalizes its Bioengineered Food Disclosure Standard" to give the food industry time to assess the impact.
Whole Foods spokesperson Rachel Alkon said:
"We have decided to pause on our September 1, 2018 deadline for our GMO Labeling Policy. We remain committed to providing our customers with the level of transparency they want and expect from us and will continue to require suppliers to obtain third-party verification for non-GMO claims."
The retailer announced its plan to require GMO labeling in 2013. Then-co-CEO Walter Robb said at the time that Whole Foods was "putting a stake in the ground on GMO labeling to support the consumers' right to know."
Under the policy, all suppliers would be required to disclose GMO ingredients directly on food packaging. Animal products would face even tougher restrictions, having to state on labels when a product contains animals that were raised on GMO feed.
Whole Foods' policy is far more stringent than USDA standards established in 2016, which require companies to label GMO foods with a quick response (QR) code. Critics argue that the codes could keep millions of buyers in the dark, as they require the use of a smartphone.
Read: USDA Regulatory Loophole Allows GMO Products to be Marketed as Non-GMO
In an e-mail to suppliers, Whole Foods President and Chief Operating Officer A.C. Gallo said:
"As the USDA finalizes the federal regulation in the coming months and the food industry assesses the impact, we do not want our Policy to pose further challenges for you and your business." [2]
Sources:
Read more: http://naturalsociety.com/betrayed-whole-foods-halts-mandatory-gmo-labeling-plan-4810/#ixzz5Zb3owW6y
Follow us: @naturalsociety on Twitter | NaturalSociety on Facebook
Read more: http://naturalsociety.com/betrayed-whole-foods-halts-mandatory-gmo-labeling-plan-4810/#ixzz5Zb3hoNoJ
Follow us: @naturalsociety on Twitter | NaturalSociety on Facebook