"Renowned Indian scientist Dr. Tusher Chakraborty has another view of this supposedly miracle crop, however. While speaking to the UNB at a workshop on Food Security and Modern Biotechnology on October 10, Dr. Chakraborty said that Golden Rice "may carry traces of retinoic acid derivatives which may cause teratogenicity – that means birth defects in general."
But the agency says it's no healthier than regular rice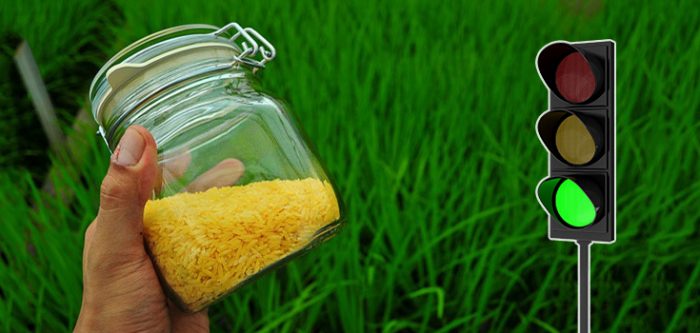 Latest News
 by Mike Barrett
Two decades ago, genetically modified (GM) golden rice was touted as a way to save the world's starving children. The hype didn't last very long, however. It didn't save any lives, farmers didn't grow it, and nobody ate it. But in May, golden rice won the approval of the U.S. Food and Drug Administration (FDA), with the agency declaring it safe to eat.
Golden rice, one of the oldest GMO crops, initially won high praise because it was engineered to produce vitamin A (beta-carotene), which would help children in poor countries get the required dose of the vitamin. About 250,000 to 500,000 children go blind each year from a lack of the vital nutrient.
Researchers began modifying rice DNA in 2000, and it won overwhelming support from the Rockefeller Foundation and the Bill and Melinda Gates Foundation, both of which funded its progress. Even Pope Francis gave the GMO crop his blessing.
The U.S. is the 4th nation to approve golden rice, and more could follow. The U.S. is part of an international body that forms recommendations about food safety that other countries can adopt if they lack their own equivalent of the FDA.
Still, it could be a tough sell for the other 168 countries that chime in about international food standards. Golden rice crops aren't necessarily field-ready, according to a 2016 Mother Jones report. The plants aren't as efficient as they could be and don't yield the crops that regular rice does, so many farmers might see golden rice as a waste of time and money.
And, there's this…
The news media has been celebrating the FDA's embrace of golden rice and the fact that more countries could also approve it, still framing golden rice as a savior of sick and dying children. Don't be fooled.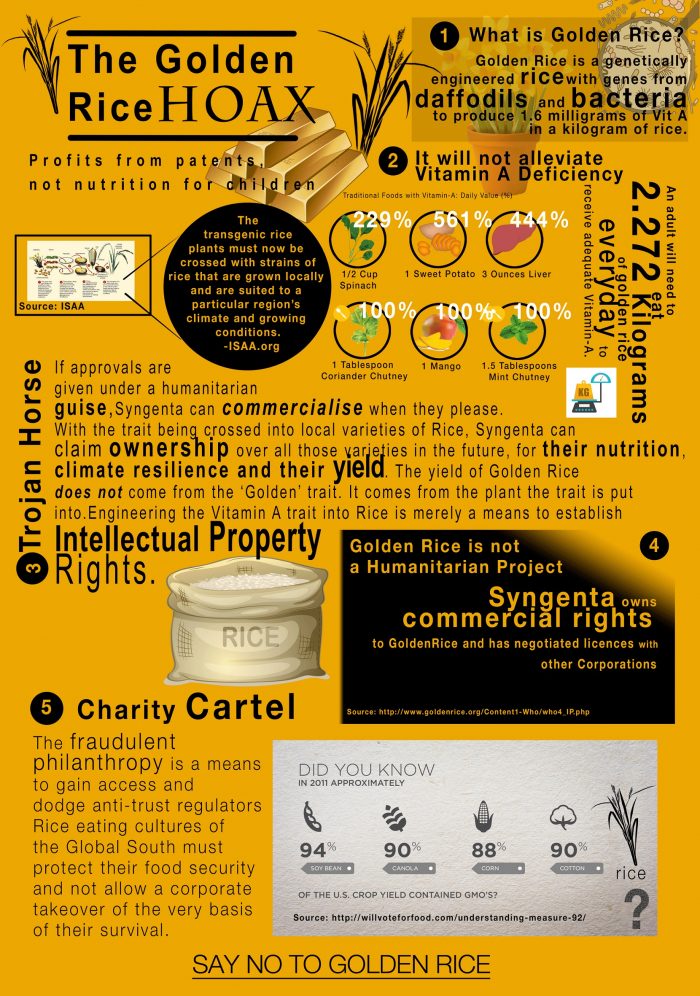 Read: Farmers of the Philippines Say "No Way" to GMO Rice
The FDA itself says that no health claims can be made about golden rice. The amount of beta-carotene contained in golden rice is so minuscule that the crop fails to qualify for a nutrient claim. [2]
In a letter to the International Rice Research Institute (IRRI), the FDA wrote:
"Based on the safety and nutritional assessment IRRI has conducted, it is our understanding the IRRI concludes that human and animal food from GR2E rice is not materially different in composition, safety, or other relevant parameters from rice-derived food currently on the market except for the intended beta-carotene change in GR2E rice."
The letter goes on to say that "the concentration of β-carotene in GR2E rice is too low to warrant a nutrient content claim."
It seems that golden rice was much ado about nothing.
Source:
[1] Futurity
Excerpt:
Renowned Indian scientist Dr. Tusher Chakraborty has another view of this supposedly miracle crop, however. While speaking to the UNB at a workshop on Food Security and Modern Biotechnology on October 10, Dr. Chakraborty said that Golden Rice "may carry traces of retinoic acid derivatives which may cause teratogenicity – that means birth defects in general."
Retinoic acid is a retinoid, a compound derived from retinol or vitamin A. Retinoids are used to treat skin conditions and cancer. While vitamin A is important in pregnancy, an overabundance of the nutrient can cause teratogensis, the production of birth defects in a developing embryo. Too much vitamin A or an excess of retinoids in pregnant women can result in malformations to fetuses' skulls, faces, limbs, eyes, and central nervous systems. [2] [3]
In addition to the targeted retinoic acid, the numerous other derivatives can be created in the transgenic rice that can trigger numerous unknown metabolic receptors in humans and lead to various health problems throughout life, he added.
Dr. Tusher, a member of State Council of Biotechnology, West Bengal, India, said: "Golden rice involves an unnecessary risk in the name of meeting vitamin A deficiency. It's a move in the wrong direction, it's a plot to divert the food culture to the wrong route."
According to the scientist, there are plenty of other vitamin A sources in South Asia, including indigenous rice varieties that are naturally enriched with vitamin A.
"It's a culturally distorted concept of nutrition to interject four-five other things in the staple grain. Nutrition security means the diversity of nutritious food, not to have all the supplements in one grain."
Dr. Tusher also says daily consumption of rice needed to tackle South Asia's vitamin A deficiency is unrealistic – 1.5kg. That would mean eating more than 3 lb. of rice every day.
Sources:[1] The Daily Star 
[2] News Medical
---
Post written by

Mike Barrett:
Mike is the co-founder, editor, and researcher behind Natural Society. Studying the work of top natural health activists, and writing special reports for top 10 alternative health websites, Mike has written hundreds of articles and pages on how to obtain optimum wellness
Read more: http://naturalsociety.com/fda-approved-gmo-golden-rice-enter-us-food-supply-5811/#ixzz5aFKXgpJG
Follow us: @naturalsociety on Twitter | NaturalSociety on Facebook