"The alcohol industry has fought marijuana legalization because of sluggish sales. A recent study shows a 15% decrease in alcohol sales in states with medical marijuana laws. Researchers at the Canaccord Genuity Group Inc. predict that cannabis-infused drinks will be worth $600 million by 2022 in the U.S. alone."
The Newest Cannabis-Infused Product is Non-Alcoholic Beer
For those who prefer to get baked instead of drunk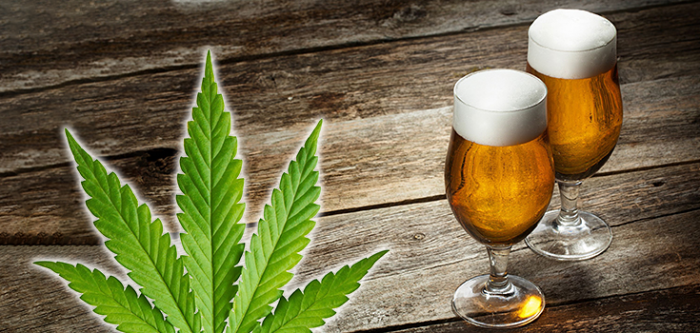 Latest News
Cannabis-infused edibles are a big and burgeoning business. You can acquire your weed or your CBD oil (which won't get you high) in just about any form you can think of. There are gummies, cookies, ice creams, coffees, and now … non-alcoholic beer.
If you're in California, that is.Two Roots Brewing announced the launch of "the world's first cannabis-infused, non-alcoholic, craft beer" in early February. The company promises the THC-infused version of the beverage will get you high within 30 minutes of drinking it. There is a CBD-infused version, too, which won't get you stoned (though CBD causes relaxation and a slight "buzz.") The effects are said to last around 90 minutes.
The alcohol industry has fought marijuana legalization because of sluggish sales. A recent study shows a 15% decrease in alcohol sales in states with medical marijuana laws. Researchers at the Canaccord Genuity Group Inc. predict that cannabis-infused drinks will be worth $600 million by 2022 in the U.S. alone.
As the old saying goes, "If you can't beat 'em, join 'em."
Cannabis-infused beverages allow users to enjoy cannabis in a more socially-acceptable way. If you don't want anyone to know that you're consuming cannabis, no one will know you're drinking it unless you tell them.
Two Roots' debuted Cannabier, the name of the non-alcoholic suds, in Nevada and the company claims they were a big hit, said Timothy Walters, President and Chief Operating Officer of Cannabiniers. [2]
"As more states legalize recreational cannabis, users will continue to seek new, more sociable ways to consume, and companies will increasingly look to adapt to this new wave of consumption. We are thrilled to bring Two Roots to residents throughout California, offering a more enjoyable and socially integrated way to cons
Read more: http://naturalsociety.com/newest-cannabis-infused-product-non-alcoholic-beer-8145/#ixzz5mtaTshYN
Follow us: @naturalsociety on Twitter | NaturalSociety on Facebook