"I haven't exactly been subtle about it, you realize. I have literally tried to drown you, crush you, starve you, dehydrate you, pump you full of diseases, and suck your homes and families into swirling vortices of death. Honestly, what more is it going to take for you people to get the message?"
The Onion Repost from   6/01/11 8:00AM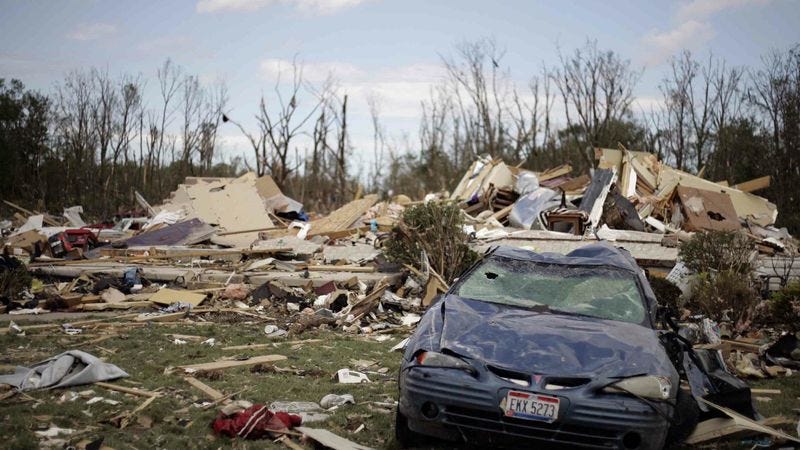 EARTH—According to a statement released to the press Tuesday, the planet Earth has "just about run out of ways" to let its roughly 6.9 billion human inhabitants know it wants them all to leave.
Following a recent series of disastrous floods along the Mississippi River and destructive tornadoes across much of the United States—as well as a year of even deadlier natural catastrophes all over the world—the Earth said its options for strongly implying that it no longer wants human beings living on it have basically been exhausted.
"At this point, I think I've stated my wishes quite loudly and clearly," the Earth's statement to all of humanity read in part. "I haven't exactly been subtle about it, you realize. I have literally tried to drown you, crush you, starve you, dehydrate you, pump you full of diseases, and suck your homes and families into swirling vortices of death. Honestly, what more is it going to take for you people to get the message?"
"Do I have to spell it out for you?" the statement continued. "Get the f**k out of here. I want you to leave now."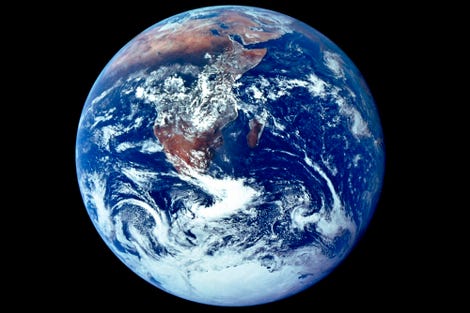 The statement went on to list thousands of incidents in 2011 alone that the Earth claimed were "solely and unmistakably" designed to inform the human race that it might be time to move on, including the devastating tsunami that caused thousands of deaths in Japan, an earthquake in Christchurch, New Zealand, that killed an estimated 181 people, and historic rainstorms in Colombia that destroyed entire communities with deadly landslides.
The planet Earth also singled out an ongoing drought in China that has left more than 2.3 million people with a shortage of fresh water as "a pretty big goddamned tip-off, wouldn't you say?"
While the Earth had hoped the human race might finally "get the picture" following one of the harshest winter storm years in recorded history, it instead found that people simply went on with their lives, occasionally making reference to disaster victims in their thoughts and prayers but showing no intention whatsoever of preparing themselves for a long trip through the far reaches of space to find a new home.
"I know your species has developed the technology to leave me, I've seen you use it before, so I'm asking you now, please, just take the hint already," read another excerpt from the Earth's statement, which added that it would really be best for all concerned if humanity were to "trundle off to some other biosphere for a while." "You can't possibly be enjoying this, can you? Honestly, you would have to be completely deranged or masochistic to continue staying here."
Immediately after delivering the statement, the Earth ignited a series of wildfires throughout the world's arid regions.
Though some scientists have responded to Earth's message with theories as to precisely what the planet might be trying to communicate, most firmly acknowledged that further study would be required before any definitive evidence could be gleaned from the "fascinating" statement.
"Certainly these utterances from the Earth are strongly worded, but at this point it is difficult to say whether they speak to a larger trend or are simply a bio-geological anomaly," Dr. Roger Summons of MIT said. "While there seems to be an implication that the Earth wants us to go away and never come back, I, for one, can't say conclusively from either a geochemical or a meteorological standpoint whether this is in fact the case."
In a sharp rebuke to both the planet and the mainstream scientific community, Republican leaders in Congress responded this week with a scathing critique of what they deemed to be the Earth's "pathetic and extremist viewpoints."
"What we're seeing here is the same old scientific mumbo jumbo and partisan rhetoric that the Earth has been spewing out for millennia," Sen. Jim Inhofe (R-OK) said. "We're not going to be bullied by a celestial body that has time and again failed to deliver on its promise to glorify and reward mankind with its bounty."
Immediately following these statements from the human race, the Earth emitted a loud sigh, which shifted multiple tectonic plates and caused massive earthquakes on five continents.