Next week is Earth Week
Daily Acts: How to Go on Your Own Insect Safari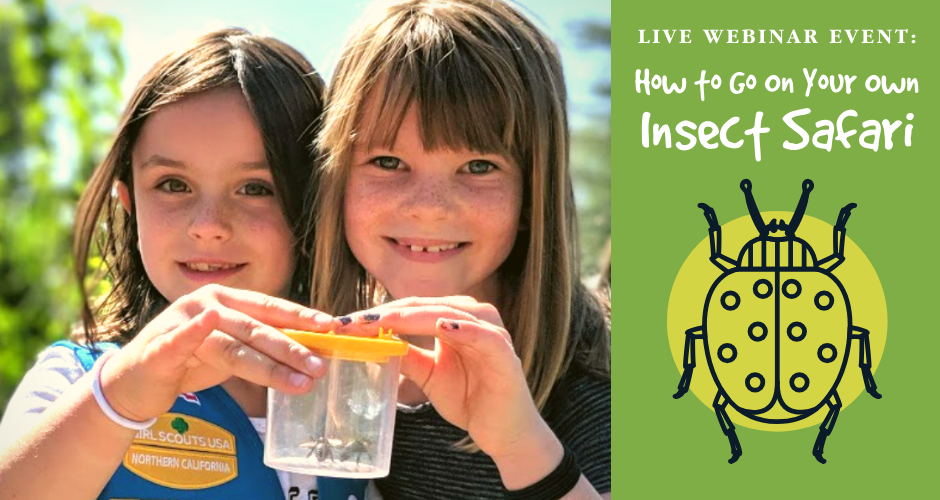 JOIN DAILY ACTS FOR A FREE WEBINAR:
HOW TO GO ON YOUR OWN INSECT SAFARI
Featuring Special Guest Kandis Gilmore!
In this webinar for kids, learn all about insects from local entomologist Kandis Gilmore! Kandis has a Master of Science focused in Ecology & Evolutionary Biology from Sonoma State University, where her thesis research focused on Sonoma County pollinators. During this webinar, learn about what an insect is, what makes them unique, and how to observe them. Then, watch Kandis visit our friends at Petaluma Bounty, where she'll explore how farming practices at the Bounty Farm encourage a rich diversity of insect life. Kandis will then invite you to go on an Insect Safari in your own garden space, and come back and share your findings! This webinar will close with Kandis reading one of her favorite insect stories.
Join Kandis to learn about:
 What is an Insect? Learn about insect anatomy and what makes insects unique!
 What sort of habitat do insects need? Learn where to find insects in your own garden spaces!
 How do you observe insects? Learn how to write nature journals with your kids!
LIVE WEBINAR EVENT
Saturday, April 18, 2020
9:00 AM PDT – 10:30 AM PDT
Please click the link below to register for this webinar. You must sign up to receive a link to participate!
CAN'T MAKE IT? Register today and we'll send you the recording after the webinar, along with some resources!
Registration for this webinar will close at 11:59 PM on Friday, April 17th. 
As you can imagine, nonprofits and small businesses are being especially impacted by this virus.
If you are able to donate at this time, we would be so very grateful!
This Webinar is FREE, thanks to: