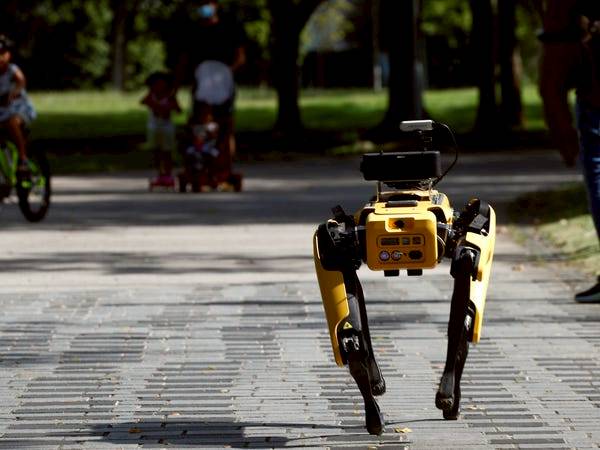 A robot dog is patrolling one of Singapore's parks as part of coronavirus-related trial.
The machine – made by US-based Boston Dynamics – is fitted with a camera to monitor how busy Bishan-Ang Moh Kio Park becomes.
It also carries a loudspeaker to broadcast social-distancing messages.
A four-legged robot built by US-basedBoston Dynamics patrolled Bishan-Ang Mo Kio Park to remind people ofsafe distancing measuresstarting from Friday (May 8), The Straits Times reported.
Called Spot, the robot assisted with safe distancing efforts at parks, gardens and nature reserves managed by National Parks Board (NParks) and at parks managed by town councils.
The pilot trial is jointly conducted by NParks, and the Smart Nation and Digital Government Group (SNDGG).
"Let's keep Singapore healthy," the yellow and black robodog named Spot said in English as it roamed around. "For your own safety and for those around you, please stand at least one metre apart. Thank you," it added, in a softly-spoken female voice.
Despite the niceties, breaches of Singapore's strict lockdown rules can result in hefty fines and even jail.
Under rules to enforce the lockdown in place until June 1, residents can only leave their homes for essential trips like grocery shopping and must wear a mask at all times in public. Exercise outdoors is permissible but must be done alone.
According to Business Insider, another robot, known as O-R3 in the shape of a small car, was deployed at Bedok Reservoir Park by national water agency PUB as a kind of safe distancing ambassador. It warned visitors "not to loiter" and that "gatherings are not allowed".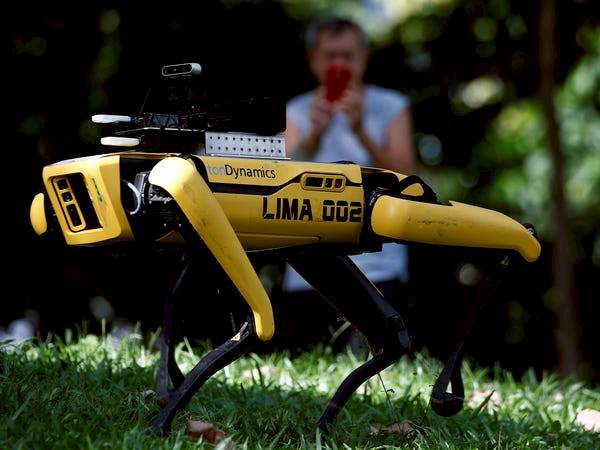 As well as broadcasting messages reminding visitors of social distancing measures, Spot is fitted with cameras and analytics tools to estimate the number of people in the park.
Authorities said the cameras would not be able to track individuals or record personal data.
Spot has also recently been trialed for use at a temporary hospital delivering medicines to patients.
https://today.line.me/id/pc/article/Watch+Robot+Dog+Enforces+Social+Distancing+in+Singapore+Park+%C2%A0-972Rzq