You're Invited: A Live-Streamed Climate Conversation
Organized By: Redwood Chapter
Event Organizers:
Jeff Morris
jeff.morris@sierraclub.org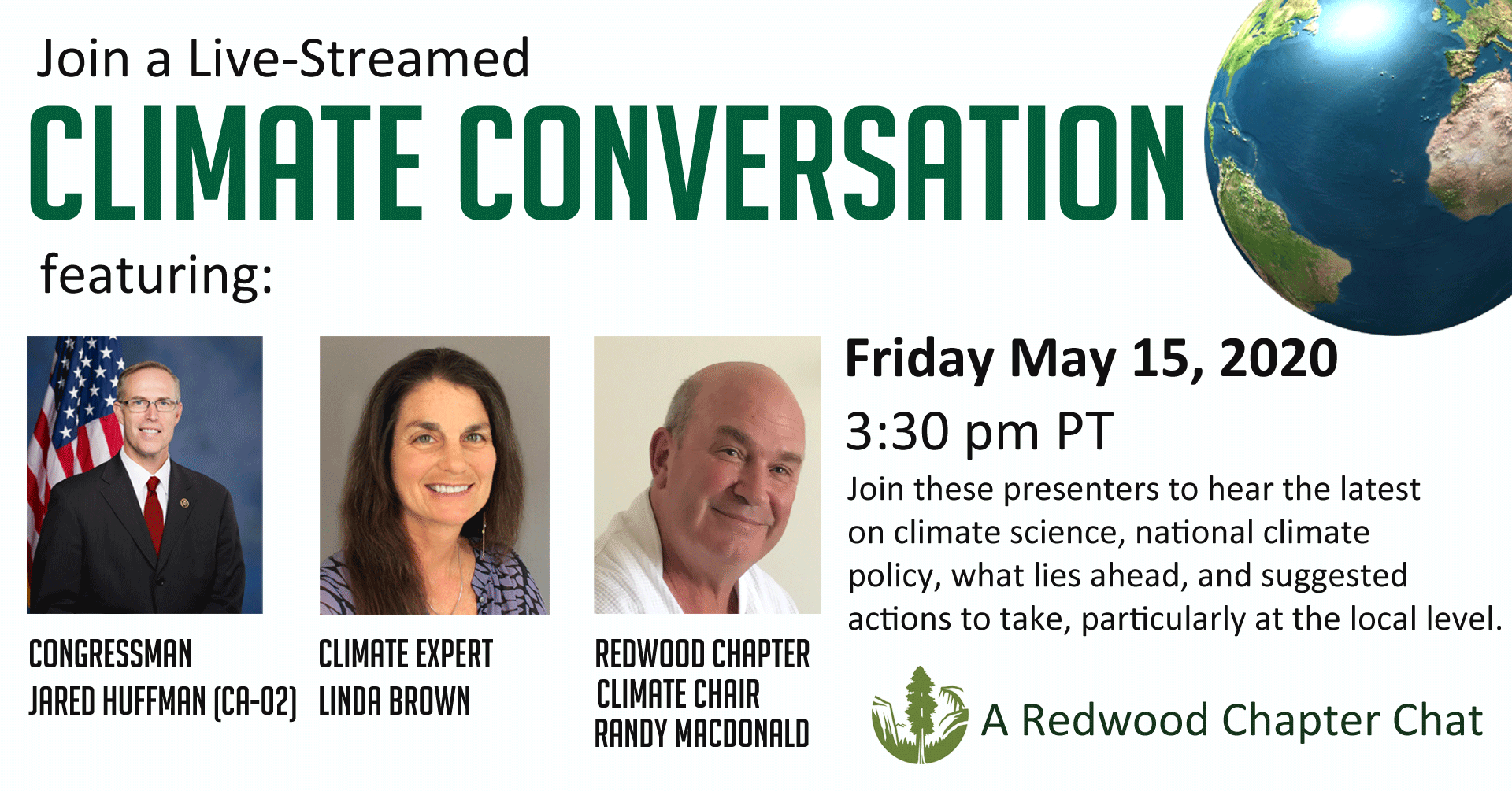 Event Description: Join Congressman Jared Huffman (CA-02), climate expert Linda Brown and Redwood Chapter climate chair Randy MacDonald for an engaging discussion on the latest in climate science, national climate policy, what lies ahead, and suggested actions to take, particularly at the local level.
THIS EVENT WILL LIKELY BE IN HIGH DEMAND AND REGISTRATION MAY CLOSE AT ANY TIME.
If you're unable to register you can still watch the live stream on our Facebook page here – https://www.facebook.com/SierraClubRedwoodChapter/
We are excited to bring these three powerhouses together for an engaging discussion about climate change and action being taken locally and at regional, state and federal levels.
Rep. Jared Huffman has represented our region in District CA-02 in the U.S. House of Representatives since 2012. His recent accomplishment to pass sweeping legislation through the House to protect thousands of acres of wildlands in the district has moved on to the Senate. A climate action champion, Huffman says that climate change is the "greatest imperative of our time," and he is a co-sponsor of the Green New Deal.
Linda Brown is co-founder of Napa Climate NOW! and a former member of Redwood Chapter's Napa Group's executive committee. She is co-founder and senior vice president of SCS Global Services, an innovative global leader in third-party environmental, sustainability and food quality certification, auditing, testing and standards development.
Randal MacDonald is Redwood Chapter's Climate & Energy Committee Chair and leader of its Climate Protectors program. A resident of rural Mendocino County, MacDonald is a dedicated and passionate activist on climate change.
Please join us for a Zoom webinar to hear directly from these experts and policy leaders. A discussion will be followed by a Q&A session.
Cost: Free
Signup Instructions: First 100 registrants may attend