We need your help restoring salmon habitat on the Lagunitas Creek Watershed, the most important habitat for recovering endangered coho salmon on the central California coast.
Please join us next Saturday, July 17 to remove invasive plants at our Tocaloma project site in Lagunitas, California. We will be pulling and cutting back invasive plants such as wild mustard, hemlock, and thistles on the site. If we can control seed populations – and thereby reduce the spread of the invasive plants that are on the site this summer – we will have much less work to do next year!
When: Saturday, July 17 from 10am-2pm
Where: Tocaloma Restoration Site (9255 Sir Francis Drake Blvd., Lagunitas, CA)
Gloves and tools will be provided. Please bring a lunch and a water bottle, and dress for the sun.
We are approaching three years since the completion of constructing new perennial and seasonal channels at the Tocaloma site. We are doing our best to keep invasive species out of the area, which has been planted with thousands of native plants, and we could use your help!
It is important to remove invasive plants due to their impact on water quality, biodiversity, fish and habitat cover, and tree cover. Invasive plants spread quickly and create monocultures by displacing native plants. Insects have co-evolved with native plants, and because plants and insects form the base of the food web, invasive plants are a leading cause of native biodiversity loss.
A healthy ecosystem is composed of a wide variety of native trees, shrubs, perennials, and groundcovers. Invasive plants like periwinkle and ivy have shallow roots, and when they dominate the groundcover there is little root structure to bind the soils. A diverse community of native plants will naturally contain a variety of root structures, which bind the soil and prevent erosion.
With your help we can work together to provide an impressive and important range of habitat for local coho, as well as other wildlife.
I hope to see you Saturday,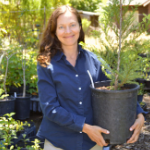 Audrey Fusco
Nursery Manager & Restoration Ecologist
SPAWN (A program of Turtle Island Restoration Network)